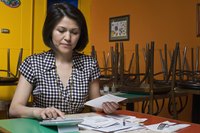 The Employee Retirement Income Security Act of 1974 (ERISA) established IRAs so investors could save funds in tax-favorable accounts toward retirement. Through ERISA Section 408e, enforced by the Internal Revenue Service, you can purchase eligible stock in private business enterprises. This allow an investor to diversify retirement assets to invest in his small business or to invest in other small businesses. While this is an allowable investment in an IRA, you must follow specific regulations to prevent tax penalties assessed to you.
Find a self-directed IRA custodian that allows this type of investment. The IRS allows this type of investment but does not require custodians to offer the entire gamut of allowable investments, including private stock investment. DRDA, LLC and Safeguard Financial are examples of self-directed IRA custodians that do allow this.
Open the account and fund it either with a contribution, IRA transfer or 401(k) rollover.
Hire a Certified Public Accountant (CPA) firm that is familiar with self-directed IRAs, otherwise known as checkbook IRAs. It is imperative that the CPA be familiar with ERISA Section 408e to help you properly account for these transactions without penalty.
Open a new corporation or find a private company you want to invest in. The company must have stock, therefore must be registered with its own Employer Identification Number.
Transfer cash from the IRA plan to the corporation in exchange for stock. The money can be deposited into the corporation's bank accounts to be used for expenses needed for operation or growth. The stock certificate is issued with your IRA as the owner. The CPA or IRA custodian will file the asset in the self-directed IRA account for basis purposes.