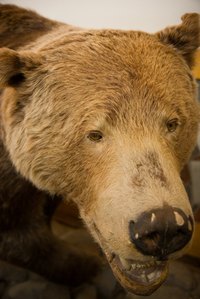 Opening a taxidermy business is not for the faint of heart. But if you're able to stand the sight of an animal's internal organs—and know how to turn the animal into a work of art—then you may thrive as a taxidermist.
If you've seen dramatic animal displays at a museum, you've seen the creativity of gifted taxidermists. In fact, museums all over the world seek out and hire taxidermists to develop imaginative ideas for their exhibits. But taxidermy isn't just for museums—it includes wall mounts of deer, bears or lions, or even posed animals as design pieces. Think you've got that combination of creativity and intestinal fortitude to be a taxidermist? Then learn how to start up your business.
Build relationships with local hunters. Go to hunters in your area and let them know that you can create a display of the animals which they have caught. Explain that you will charge these hunters a discounted rate if they will refer other hunters to your taxidermy business. Find hunters in your area by going to the "Hunting Guides in Every State and Country" section of http://www.huntingsociety.org or placing an advertisement for hunters in magazines such as "Field & Stream."
Research other taxidermy markets. Find out if there are other individuals, such as fishermen, who could use your services; ask the hunters you work with for referrals. (You can also find out the locations of local fishing supply stores simply by Googling them.) Contact fishermen in your area to determine if they would like you to create a display of any fish they have caught. Explain to them that they can hang these prized possessions on their walls for all their friends and family to admire.
Decide on a price for your services. Contact other taxidermy businesses in your area via http://superpages.com. Ask them the rates which they would normally charge their clients. Charge a cheaper rate than your competitors until you are established.