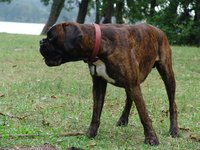 Keeping a dog at an ideal weight is important for the dog's health. A dog may be underweight. Skinniness in a dog may be caused by a medical condition, which can be diagnosed by a vet. A dog may also be skinny because of neglect. Some dogs stop eating and lose weight due to stress. Determining if your dog is too skinny is not difficult, and skinniness can be diagnosed on sight and feel.
Stand above your dog and look at its shape. Ideally, the dog should have an obvious waist. From the side, the dog should have a tucked abdomen. If you can see the dog's ribs and pelvic bone easily, and the dog appears to have lost muscle mass, then the dog is too skinny.
Place your thumbs on the dog's spine about halfway down and your fingers on the dog's ribs.
Slide your hands up and down. If the dog is at its ideal weight, you should feel a thin layer of fat and be able to feel the ribs but not see them.