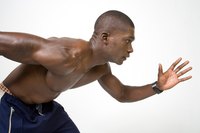 Named after the Greek goddess of victory, Nike is one of the most recognizable brands in the world. Started in 1962, it wasn't for nine years that the "swoosh" was adopted as its official logo. Today, Nike makes shoes for almost every sport, sporting equipment and even clothing. If you're shopping for a new pair of kicks, there are some things that you may want to consider before getting into the checkout lane.
Determine whether you need your Nikes for a sport or just for fun. If you're looking for a regular shoe, Nike has hundreds to choose from. They have flip flops, canvas shoes, high tops and even sandals.
Choose for which sport you'll be using the shoes. If you are an athlete and need your Nikes for a specific sport, they have you covered. Go to the Nike website and search your specific sport (on the left-hand side of the screen). From there, you'll be able to view all of the different shoes that are made for your sport.
Determine what your needs are. For example, if you need a light basketball shoe, you may want to choose the Nike Hyperize TB. If you're a wide receiver and looking for a football cleat that can increase your speed, you may want to try Nike Super Speed 3/4 iD Football Cleat. Knowing what your needs are will help you (or a Nike sales associate) select the most suitable shoe.
Know your budget. Nike has a wide range of prices that can fit everyone's needs. However, if your budget is $100, you may need to pass on the Nike Super Speeds.
Go to a local Nike store or sporting-goods store. The best way to know which Nikes are best for you is trying them on and testing them out. Have a few different shoes that you like in mind and try them all on. Many sporting-goods stores will allow you to run/walk around the store to get the feel of the shoe.