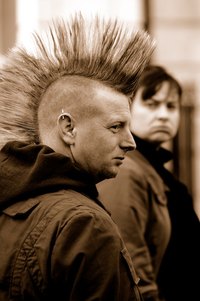 If you're wondering how to make punk patches, then you're the kind of person who likes to display to the world what your favorite bands are and maybe even a few ideas you have about politics, culture, and society. By keeping just a few things in mind and having a few materials on hand, it's easy to make punk patches to attach to your jackets, hats, backpacks, and luggage. You'll have a completely re-vamped punk wardrobe in almost no time.
Things You'll Need
Fabric
Scissors
Permanent marker
White-out pen
Safety pins
Choose your fabric. Old shirts, blue jeans or any kind of old fabric you come across can be used to make punk patches. Just choose the colors you like. It doesn't really matter which color you choose. It's a matter of personal preference. Depending on your needs, you may need lots of fabric or less than a square foot.
Decide what to write. Since you're making your own punk patches, you'll have to decide what exactly you want them to say. If it's a political statement you wish to make, think of something witty to write on your patch. If you want to show off your favorite bands, consider copying their logo onto your fabric.
Write or draw on the fabric. If your fabric is light in color, you'll want to use a permanent marker. On the other hand, you should use white-out for black fabric. Use either instrument to write your statement or band logo on the patch. How large you write is a matter of how big you want each patch to be. Remember that you'll be cutting around whatever you write, so size your text accordingly.
Cut out the patch. Using scissors, cut the fabric around where you've applied your message or drawing. Punk patches are usually cut into squares or rectangles, but you're welcome to cut out a different shape, of course.
Attach the patch with safety pins. Now that you have cut out your patch, use safety pins to attach it to your clothing or bag. Patches attached with safety pins are essential to the do-it-yourself punk style and aesthetic, and they allow you to easily exchange one patch for another one if you want to display a different message or advertise a new favorite band. Using safety pins also allows you to move patches to different parts of your clothing at will. Attach as many or as few punk patches as you like.