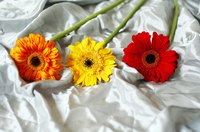 People may want to purchase silk flowers wholesale so they can either buy the flowers of their choice in bulk or resell them to make a profit. True wholesale suppliers can be hard to find if you do not know where to look. Unfortunately, some wholesale suppliers, specifically online suppliers, will boast of selling their flowers wholesale when actually they are just discounted retail flowers. In order to obtain the wholesale pricing for silk flowers from legitimate wholesalers, you will need to be a registered business owner. There are certain requirements that you must meet to get the authentic wholesale pricing.
Make sure your business is legally structured. Wholesalers will need you to fax in proof of business ownership before they will allow you to buy their products at wholesale. Structure your business as a sole proprietorship by obtaining a business license from your tax revenue office. You can incorporate by filing articles of incorporation which can be done at your Secretary of State's website or you can hire an attorney to do so.
Obtain a tax ID number. The most important factor in purchasing your silk flowers wholesale is having a tax ID number. Oftentimes wholesalers will require you to fax your Tax ID certificate to prove you are in business. Tax ID numbers, also known as employer identification numbers (EIN), are free and offered by the IRS. Visit the IRS website to apply online or you can contact an IRS agent over the phone to obtain your Tax ID.
Determine the type of silk flowers you are interested in purchasing. You may be interested in specific silk flowers or a range of different flowers. Some wholesale companies specialize in silk flowers that replicate flowers from specific regions or locations around the world.
Locate your preferred wholesaler by going to the Wholesale Florist and Florist Supplier Association(WFFSA). The WFFSA has phone numbers, names, and addresses of wholesalers that are registered with their association. Comparison-shop when speaking with each wholesaler as they may have minimum requirements for the number of silk flowers you can purchase per order. Wholesale suppliers are expecting you to buy their flowers and sell at a retail price so they usually do not accept purchases in small amounts.