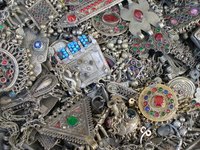 Most commercially produced silver jewelry is stamped with markings. These markings give you a lot of information about the jewelry, such as the purity of the metal, the country of origin and the maker. Some of this information is easily identifiable, but the interpretation of more obscure markings may require research. To begin your exploration, there are some online encyclopedias of hallmarks that can be accessed for free. Experts may charge a few for a more in-depth consultation. However, many will be happy to share their knowledge with you, especially if you have done some basic research yourself.
Things You'll Need
Jewelry
Polishing cloth
Magnifying glass
Jewelers loupe
Pencil
Paper
Inspect jewelry to look for markings. Check inside rings, on the back of bracelets and pendants and near necklace clasps. If your vision is not perfect, use a magnifying glass to search for stamped areas.
Remove tarnish from around stamped areas with a polishing cloth. Recessed markings will remain dark, creating a contract to help you see more clearly.
Use a jewelers loupe for a closer view. Note any numbers, which usually signify the purity of the silver. The most common marking for sterling silver is 925, referring to the 92.5% minimum silver content to be classified as sterling. Higher numbers identify the percentage of silver in fine silver jewelry.
Look for letters, which could indicate the maker or identify the jewelry as silver. Common markings for silver include "s," "STER" or "STERLING." Other letters could represent the jewelry maker.
Write down any markings that you see. Sketch symbols and pictures for future identification. Many symbols reveal the country of origin. French silver items are sometimes stamped with a boar's head. The symbol for British sterling is a walking lion.
Look up any markings that you cannot identify on an online encyclopedia or in a book. Most public libraries should have a guidebook available. Post inquiries in online forums for expert opinions.