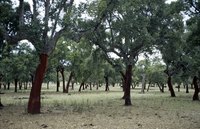 Spain's economy has a large agricultural segment. According to the CIA's World Factbook, agriculture makes up 3.4 percent of Spain's gross domestic product (GDP). In comparison, the United States GDP is only 1.2 percent due to agriculture. Some of Spain's biggest agricultural products include olives, wine grapes, citrus, beef, pork and fish. From the dry, hot climate in the south to the lush, wet, green lands in the north, fertile farm land can be found all over Spain.
Identify potential farms to purchase. Several websites exist that can help you locate farms for sale in Spain, including: www.your-own-wine.com www.vinesmart.com www.imagesofandalucia.com spain.businessesforsale.com
Contact the person or broker selling the farm. Most of the listings online provide contact information either directly to the seller or for the property lister. Once you have established contact with the selling party, verify all assets that accompany the property and negotiate a final purchase price.
Find a lawyer in Spain as close to the property you want to purchase as possible. A simple online search for the nearest city plus the word "lawyers" or "abogados" will be a good start. Fly to Spain if you have the time and budget so you can meet a few lawyers and choose the one you feel most comfortable with. Having a good lawyer nearby to help you close the deal and properly file all necessary paperwork is critical to a successful transaction.
Set up a bank account in Spain to make your mortgage payments and protect yourself from fluctuating currency values. This step is only necessary if you finance the farm purchase.