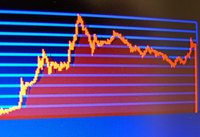 Day trading is a profitable form of income for few individuals. The field is exceptionally challenging but can offer great rewards for those who are patient and committed to mastering the learning curve. Many traders isolate the stocks they believe will be "in play" for the day, and then trade those stocks exclusively. Selecting a stock for day trading is an art that involves hours of chart study. While the concepts are relatively straightforward, the high-stress environment of executing meaningful day trades often causes those new to the field to develop large losses.
Pick of list of favorite stocks or companies. Most day traders start with a list of at least 100 stocks, and then narrow it down from there. For day trading, seek stocks that are liquid. This means they are highly active with many participants. Many day traders will not consider stocks that trade fewer than 10 million shares on an average day. You can chart daily trading volume with most good stock trading software or on sites such as Google Finance or Yahoo! Finance.
Understand the concept of a "trending" stock. A trend simply means that a stock is moving in an overall single direction. But price charts often appear volatile and random. The Dow Theory presented a hundred years ago defined how a price chart should reflect a genuine trend. The theory states that an up trend occurs when the cycle of prices creates "higher highs and higher lows." As prices decline off a new high, they fail to fall as far as previous declines. After the decline, the stock rises up higher and forms a new high and the process continues indefinitely. A down trend is the mirror opposite of this.
Study the charts of each stock on your list to see how they have been behaving over the long term. While day trading involves opening and closing positions on the same day, it is still necessary to see the multi-month progress of a stock in order to understand how traders are likely to perceive any given day. Price trends can occur on any time frame. The chart of a stock's price over an entire year may resemble the chart shapes of the stock over a single day. A common goal in day trading is to capitalize on short-term trends that are building to help complete a larger long-term trend. Find stocks that are in a trend over several days, weeks or months.
Create intraday charts of medium duration for each stock you discovered to be in a long-term trend. Many day traders use 1-minute or 5-minute charts for trade execution, but you should study intraday charts of longer duration. A 1-hour chart would display one price point for each hour of the day over the course of many days.
Study these short-term intraday charts to further isolate those stocks which are trending on this small time frame in the same direction as the trend of the long-term time frame. This will narrow down your list further.
Create tight intraday charts over the last two or three days of the stocks that remain on your list. Use 5-minute or 10-minute charts and identify which stocks have exhibited a tendency to trend in the same direction as their larger trending patterns. When charts are created with such small increments, you are unlikely to see one overall pattern last for more than a couple hours. However you can identify those stocks that are demonstrating clear trending opportunities more often than others on the list.
Choose any stock on your list that has lasted through all three trend tests. If you are comfortable, you can monitor all the stocks that remain on your list, but this requires you to be more observant in real-time. This may be difficult for those new to the field.
Create a short-term intraday chart of 1-minute or 3-minute increments. During the normal trading session, watch this chart until a trend develops that moves in the same direction of the longer-term trends already discovered. Purchase a stock that is in an up trend on all time frames. The goal is that this short-term intraday trend will help power the next-larger time frame to continue its trend, which in turn influences the next-larger time frame.