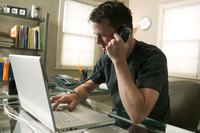 Depending on who you ask, the annual cost of Medicare fraud ranges from $65 billion to $250 billion a year, according to Bankrate. Billing for procedures that a Medicare beneficiary did not have, double billings and submitting false invoices are all examples of Medicare fraud. The Social Security Administration notes that disability fraud includes claiming disability payments but secretly being able to work or working while receiving benefits.
Use Medicare resources to report fraud. The Centers for Medicare and Medicaid Services set up special dedicated resources to report fraud in Florida. A special tip line (1-866-417-2078) and email address (floridamedicarefraud@hp.com) allow Florida residents to easily report fraud, waste and abuse within the state. When contacting the tip line, be sure to have a copy of your Medicare Summary Notice available, as well as the item or items on the notice that seem fraudulent to you. Note the name of the item or service, the date approved, the amount in question, your name and Medicare number and the reason you think it is a fraudulent charge.
Contact the Social Security Administration's Office of the Inspector General to report disability fraud. The SSA Inspector General maintains a toll-free hot line (1-800-269-0271), an online fraud reporting tool (see link in Resources) and a fax line (410-597-0118) to make reporting disability fraud a straightforward process. When reporting disability fraud in the state of Florida, be sure to note the name of the person you think is committing fraud, specific actions that you believe to be fraudulent, where in Florida the fraud took place, time frame and a list of any other individuals who may have more information about these activities. This information will help the Inspector General assign the case to the proper regional office in Florida for investigation.
Call the Florida health department. Because the health department oversees Medicare, Medicaid and disability services for Florida residents, you may report fraud in these areas to state authorities, who will work with federal authorities to investigate your claim. The Florida Department of Health notes that its disability office is the third largest in the country, handling 6 percent of all disability claims in the U.S. The health department maintains a list of all regional offices with full contact information; to report fraud in your area, call your nearest regional office with details of the fraudulent activity. Depending on the type of fraud, state authorities may ask you to complete a specific form or share your claim with federal authorities or law enforcement staff.