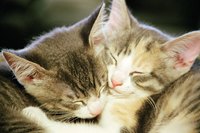 Help your baby kitten sleep through the night by providing a safe, secure environment with plenty of soft, warm bedding. You can make her transition less scary by minimizing stress. Despite your best efforts, your new kitten may still miss her mom. Be prepared for some crying for the first night or two while she adjusts to her new home.
Make a Smooth Transition
She might be feisty and playful when you first bring her home, but once the lights go out, your new kitten will realize she's all alone. Minimize her distress by preparing in advance for her arrival so she'll feel safe and secure.
Confine her to one room for the first few days so she's not overwhelmed by noise, other pets and family chaos. Remove dangerous electrical cords and plants and set up her litter box, food dishes and bed.
Provide her with a special hiding spot. Cut a kitty entrance in a small cardboard box and place a cozy towel inside. She'll be able to observe and adjust to her environment at her own pace. Encourage family members to socialize with the new kitten one at a time so she's not overwhelmed.
Create a Safe Sleeping Spot
Snuggling up with a warm kitten all night might be tempting, but your kitten isn't safe in your bed. She could wake up in the middle of the night and fall off the bed, which could cause a serious injury. A kitten cage or box with high sides keeps her from wandering around the house in the middle of the night. Place it near you so she feels safe and put a blanket or cloth that smells like you inside so she'll get accustomed to your scent.
Your young kitten can't maintain her body temperature very well. Keep her bed warm with a water bottle wrapped in a towel -- just make sure it's not too hot.
Introduce a Human Sleep Schedule
After she's settled in and feeling confident, your kitten might decide she wants to sleep all day and play in the middle of the night. Introduce her to the same sleep schedule as the rest of the family or you might be awakened at all hours when she tears around the house.
Decide on a bedtime, then host a rousing play session an hour earlier. Let your kitten chase a laser pointer or feather chaser. Once she's tired, snuggle her for a few minutes before tucking her into bed. Consider using a kitty crate for a few nights until she's accustomed to a schedule.
Consider Two Kittens
Your kitten likely spent her first eight weeks snuggled up with her litter mates, which kept her from getting cold and lonely. If you can care for two cats, consider bringing home siblings. They'll play with each other during the day and burn off some energy. At night, they'll snuggle up together and maintain their body temperatures better. If one kitten wakes up, the other is there to reassure her and keep her company. A second kitten entails additional cost and care, but consider the potential benefits as well.