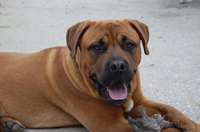 A passion for dogs is a good quality in someone looking to start a dog wash, but understand that the work is far from glamorous. Daily operations include cleaning up "accidents", preventing dog fights, dealing with difficult pets and owners and eliminating fleas, in addition to regular business accounting activities. Starting a dog wash can be a rewarding and lucrative endeavour, if you have a detailed business plan that demonstrates how you will attract customers and compete with existing dog washes.
Things You'll Need
Liability insurance
Certified groomer or certification
Business license
Washing supplies and equipment
Seek out any competition and develop a business plan that details how you intend to compete, what equipment you can expect to need, additional sources of revenue, such as selling dog treats and supplies and prices to charge for your services. If there isn't an existing dog wash, verify demand by learning the pet owner statistics in your area. Utilize the U.S. Census Bureau and the American Veterinary Medical Association's pet ownership calculator to help you determine the amount of dog owners in your community. Find local dog parks and visit them to get a better idea.
Staff your dog wash with at least one employee, unless you want to regularly check up on a coin-operated, automated dog wash. Automated washes run the risk of becoming extremely dirty, as owners can't be counted on to clean up after their dogs, and many customers want advice on flea management, skin conditions or basic assistance that they can't get at an automated wash. Staffing your facility with a friendly, knowledgeable employee will give your business personality and ensure that it's kept clean. You can also offer self-serve bays for clients who don't need assistance.
Contact your municipal planning department to learn what, if any, restrictions there are in establishing a dog wash and any licenses and permits you will need to obtain. For example, you may be required to obtain a wastewater permit from your state environmental protection agency. You may also be limited on your water usage or be required to build special drains. At a minimum, you'll need a business license, which you can obtain from your city planning department. You'll also need to set up an inspection with your local fire marshal.
Secure commercial space, preferably in a dog-friendly neighborhood that is zoned for businesses such as a dog wash. Look for cold and hot water drains, enough outlets for your drying stations (if applicable) and sewer drains. Contact your zoning authority or building department to obtain zoning approval.
Hire an attorney and accountant to help you establish your small business, obtain a lease agreement and conduct tax planning. Consult with an insurance provider familiar with insuring pet businesses to obtain the right liability coverage for your business.
Hire a certified groomer or obtain certification to set your business apart, reduce potential liability issues by having a knowledgeable employee, network and give your business credibility. Start with the National Dog Groomers Association of America to find training and seminars in your area. The association also offers business advice for entrepreneurs looking to get started in the pet industry.
Buy waist-high tubs, steps for large dogs, aprons, shampoo, conditioner, nonslip rubber mats, hoses, dryers, shower heads, towels, a cash counter and a display case for supplies you many sell, such as leashes, toys, vitamins and grooming supplies.
Set your dog wash apart with a designated play area, fun decor, popular music and comfortable chairs, or by selling homemade dog treats or using organic products. Offer events such as a teeth-cleaning clinic or a dog walk event for charity, which is a great way to garner publicity in your community.