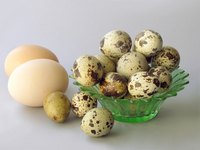 Incubators are essential for breeding many reptiles. Keeping the eggs warm is key for developing healthy animals, and can even influence the animal's genders. Incubators sells for hundreds, even thousands of dollars, but if you're strapped for cash or are just experimenting with reptile breeding, you can make a relatively inexpensive incubator with a quick trip to the hardware store.
Things You'll Need
Styrofoam box
Wire screen, metal
Wire cutters
Vermiculite
Tripod
Heat lamp with clamp
Heat bulb
Thermometer
Cut the wire screen down to size so that it fits comfortably over the styrofoam box. Dispose of the styrofoam box's original lid if it came with one. The wire screen will now serve as the lid.
Layer the bottom of the styrofoam box with a 50 percent water, 50 percent vermiculite mix. About an inch will do. Vermiculite serves as an excellent substrate for holding reptile eggs as they incubate.
Cover the styrofoam box with the wire lid you created in step one. If you wish, you can staple it down so that it's secure.
Clamp the heat lamp to the tripod and place it over the styrofoam box so that the heat generated by the bulb will flow inside.
Screw a heat bulb into the heat lamp and plug the lamp into a power outlet.
Place the thermometer in the styrofoam box, which now serves as the main body of your incubator, to monitor the temperature. If you want to decrease the temperature, use a heat bulb with a lower wattage; conversely if you want to increase the temperature, use a heat bulb with a higher wattage.