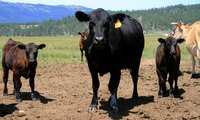 To run a successful cattle business, there are several key components. A cattle farm is a business that is can be rewarding as well as profitable. Understanding the process of owning cattle and running a farm helps you get ready to start a business. Success is based on how well the cattle are purchased, sold and marketed.
Things You'll Need
Successful cattle farming
Talk to other cattle owners. They can share information on how to run a successful cattle business. Learn from their experiences and see if having a cattle business is something that will work for you. Do the research to prepare for your business.
Find land that contains a large amount of acreage. Cows are required to have one acre each for proper grazing. Less acreage means having to feed more hay, raising the cost of operation.
Purchase or lease the proper equipment needed for a cattle business, including a truck, trailer, tractor and panels for a catch pen.
Decide what type of cattle to raise. There are several different breeds that are used for various things from milk cows to beef cattle.
Buy quality heifers and bulls. Raising quality calves increases the odds of making a profit or keeping them to build a herd.
Contact merchants who may want to buy your cattle. If it is beef cattle being raised, contact beef companies. Hauling the cattle to a local sale barn is necessary to earn income.
Keep precise records of all transactions. As with any business, sales must be recorded on income taxes. Keep tax records on any hired help and expenses for the farm.
Replace any old cattle as needed. As heifers and bulls age they become less fertile. Because a cattle business depends on the quality of calves produced, keeping a healthy herd is a necessity. This includes worming and vaccinating the cattle.