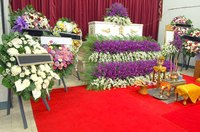 If you're getting ready to open a funeral home, you've probably placed a bottle of aspirin on your desk and carry another with you. The perpetual "to do" list associated with any business start-up can, after all, be daunting, but if you're looking for help writing a funeral home business plan, you already know the industry well enough to move forward. Think of your business plan as a road map to success, and the creation of this important compilation won't intimidate you.
Things You'll Need
Create a four-part structure for your funeral home business plan as follows: Section one describes the business you're opening; section two gives you an opportunity to outline your marketing plan and strategies; use section three to explain, in detail, the amount of cash you'll need, how you'll use it and how soon you expect to start turning a profit and fill section four with information about how you plan to operate and manage your facility.
Create a feasibility/impact study to articulate the wisdom of opening your funeral home in your community. Describe how your proposed business venture fits into the area, how much competition exists, the environmental impact of adding a funeral home to your target neighborhood and how it will affect neighboring businesses or residences.
Write a succinct, one-page executive summary based on the information included in steps 1 and 2 so readers can get a quick glimpse of your intentions. Create a brief statement of purpose and a table of contents to organize your funeral home business plan sections and documents.
Make copies of the financial data business plan readers need to have to get an accurate assessment of your current and future financial picture. Include loan applications, a balance sheet, income projections and lists of essential equipment and supplies. Add several years worth of previous business or personal tax returns for each person associated with the start-up of your funeral business.
Assure those reading your funeral home business plan of your commitment to your future business by including these backup documents: an insurance quote or binder; a list of permits, licenses, tax and other credentials; a resume for each principle and a SWOT analysis that covers the strengths, weaknesses, opportunities and tactics you investigated when you began doing legwork for your funeral home business.
Compile all of the documents you've amassed. Paginate sections using decimal-pointed sub-sections—for example, documents within the first section would be numbered 1.1, 1.2, 1.3, whereas pages in the second section would read 2.1, 2.2, 2.3, and so on. Place the contents into a binder with a cover page, and you're ready for any challenge that may come your way.