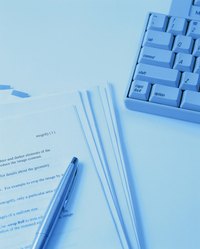 "Doing Business As" or DBA is when an individual or business entity is conducting business under a name different from their legal one. For example, John Jones wants to conduct business as Jones Tile and Paint; he would need a DBA. If he were conducting business under his full legal name, then he would not need a DBA. Los Angeles' process for a DBA is relatively simple, and can be completed in as little as four weeks.
Things You'll Need
Business Name
Filing Application
Application for DBA Statement for newspapers
Conduct a business name search; this is to eliminate the possibility of multiple businesses attempting to do business under the same name. This can be done by Internet, in person or by mail. Telephone searches are not allowed. The fee for each name in the search is $5, if conducting by mail. If conducting in person, go to room 2207, Registration fee covers two registrants under one business name. Each additional registrant or name is $4.
Go to the main office or satellite office closest to you. View the Resource box below for the other addresses. The main office is located in Norwalk, Calf. The hours are 8am to 5pm PST.
Fill out and sign the application. Submit with a first-time fee of $23 made out to "L.A. County Clerk." This application is valid for 5 years.
Publish an "APPLICATION FOR FICTITIOUS BUSINESS NAME STATEMENT" within 30 days of filing for 4 consecutive weeks in an approved newspaper. This newspaper must be in the same county the business is going to be conducted in.
Renew every five years. This does not require publishing in a newspaper. The renewal fee is $18.