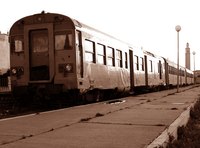 Rail travel at one point was the only fast way to travel across the country. Today some people still say that rail travel is the best way to get across the United States. Sleeping in an Amtrak train seat is easier than sleeping in a plane seat. If you are on a long train trip and want to save a little money, staying in your coach seat instead of spending money on a sleeping car is a good way to go.
Things You'll Need
Pull the lever on your chair to open your foot rest. If you are on a long trip and do not have a foot rest, you have been seated in a short-term car and should ask to be moved.
Recline your seat until you are comfortable. There is more room for you to stretch out in an Amtrak seat than in a plane seat, so you should have no issues reclining until you are comfortable.
Request a small pillow from your car attendant if you did not pack one yourself. Cover up with your blanket.
Put on your eye mask to block out any light. Put ear plugs into your ears to help drown out any sounds from other travelers.
Close your eyes, relax and get a peaceful night of sleep.