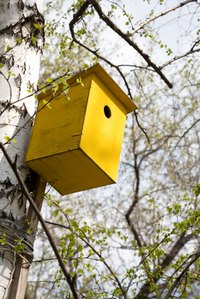 A wild bird enthusiast may notice a large entrance hole in their newly purchased birdhouse that attracts undesired species of birds. Every species of bird needs a specific entrance hole size to find the birdhouse desirable. The bluebird needs an entrance hole that measures 1 1/2 inches in diameter. Anything larger will allow birds like house sparrows and starlings to enter the birdhouse, potentially killing the bluebird babies and bluebird parents. Resizing the entrance of the birdhouse to make it smaller for bluebirds to nest safely requires few materials and little time.
Things You'll Need
Tape measure or ruler
Pencil
Bird-safe wood board
Handsaw or circular saw
Keyhole saw or jig saw
Sandpaper
1 1/2-inch hole saw
Waterproof wood glue
Razor
Measure the diameter of the preexisting entrance hole to your birdhouse with a tape measure or ruler.
Use a pencil to draw a square the same size as the entrance hole measured in step 1 on a small bird-safe wood board, such as pine or Manzanita wood.
Align a handsaw or a circular saw just outside of the pencil marks on the board to avoid cutting too small. Cut the wood.
Draw a circle inside the square board; it should touch all four sides of the square. Round the square with a keyhole saw or jig saw to create a circle.
Lightly sand the outside of the circle if it does not fit perfectly in the preexisting birdhouse entrance.
Locate the center of the circle from step 4. Cut a 1 1/2-inch hole in the middle circle with your hole saw.
Attach the resized hole to the preexisting entrance with waterproof wood glue.
Remove any residual wood glue with a razorblade once it has dried. Paint the resized entrance to match your birdhouse if desired.