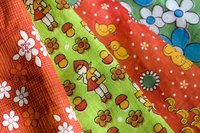 If you have an interest in fashion, specifically vintage fashion, starting an online vintage store could be an excellent business opportunity for you. Vintage clothing generally includes pieces that were created between 1920 and 1990. Some people will seek vintage items to wear everyday, and others collect designer vintage garments as a hobby. Designer vintage shops and boutiques are usually found in the fashion district of densely populated cities. Creating an online vintage shop allows individuals around the world to enjoy and collect vintage garments regardless of their proximity to urban areas.
Things You'll Need
Personal Computer
Internet Connection
E-Commerce Website
Vintage Clothing (Inventory)
Shipping and Packaging Materials
Start a Vintage Clothing Store Online
Acquire a personal computer and an internet connection. You will need both of these items to create and access your online store. Personal computers can be purchased at any office supply store such as Staples, Office Max, Best Buy or Walmart. An internet connection can be set up by contacting your local internet or cable provider.
Set up an e-commerce website. Your website is the online equivalent of a brick-and-mortar store. You cannot sell vintage clothing online without one. Your website should include photographs and descriptions of each piece of vintage clothing that you are offering for sale with prices, information about your shop, your sale and return policies (if any), and shipping prices. If you are not technologically savvy, you will need to hire a web designer to build your site.
Acquire vintage pieces to offer for sale in your online store. Vintage pieces are one-of-a-kind items that may be found in other bricks-and-mortar vintage shops, consignment stores, estate sales or online auction sites such as eBay. Unlike other retail stores, vintage clothing cannot be purchased from a wholesale distributor or manufacturer. You will need to actively seek out unique, high-quality items to carry in your online store.
Prepare and photograph your vintage pieces. Since you will be selling online, potential customers will want to see detailed pictures of your vintage items before making a purchase. Find a model or mannequin to display each piece and take photographs from different angles, usually one from the front, side and back. Upload your photographs to your website.
Purchase shipping and packaging materials. When a customer purchases an item from your online vintage shop, you will need to package and ship the item to the customer. Keep in mind that many vintage pieces may be delicate and will require attention and care when preparing them for shipment. In the case of very expensive garments, you should wrap the garment in tissue paper and place it inside of a sealed plastic bag before placing it in a shipping box. This will protect the item from liquid damage. It is also advisable to purchase shipping insurance on high-priced items in the event that they become lost or damaged in shipment.