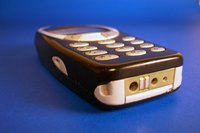 Telemarketing calls have become one of those annoying little things we deal with in life. Now, thanks to do-not-call lists, Canadians are able to remove their names and phone numbers from telemarketing lists and rest easy in the evening. Registering your phone number(s) does not guarantee call-free evenings, but it should significantly cut down on pesky calls.
Enter the unique characters that appear in a box on the website. You are asked to do this to ensure that a real person is making the request.
If you are unable to read the unique characters to confirm removal from the list, you can call in the phone number you want removed. Call 1-866-580-DNCL to remove a phone number. This call must be made from the number you wish to remove.
Wait 31 days for activation to kick in. After 31 days, telemarketers will not be able to make calls to you, so keep your cool if you receive a telemarketing call between registering and the allotted time it takes for your registration to become active.