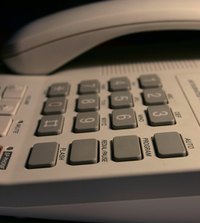 Obtaining a toll-free number for your small business, a valuable marketing strategy, allows customers to call you from long distances without having to pay for the phone call. When you have a toll-free number, you typically pay a monthly fee to your phone provider along with a per-minute rate for each minute of usage. Phone companies make it fairly easy for you to check for an available toll-free telephone number.
Visit the website of a phone company like the one provided in the Resources section for AT&T. The tool available at this site allows you to look up the availability of specific toll-free telephone numbers.
Determine which first three digits you would like to be associated with your toll-free number. The most common number is 800, however, you may also search for 888, 877, 866 or all of them. Click on the drop-down menu to select the toll-free area code for your search and scroll to the number you would like to check. If you want to check all the toll-free area codes, choose "8**".
Decide whether you would like your toll-free telephone number to spell a word that would be easy for your callers to remember. If you own a bookstore, for example, you may wish to search the availability of numbers with the last four digits spelling "BOOK." To do this, type in "BOOK" into the last spot of the search form on the phone company search tool.
Type "***" in the second form blank of the toll-free search form to indicate you don't care what numbers are listed there. (Using an asterisk in any position of the form indicates any digit is acceptable.) If you have specific digits or letters you would like to search for the second form blank, enter those there too. For example, you might enter "BUY" into the second form blank for your bookstore to check the availability of the phone number "BUY-BOOK."
Click "Check Availability" on the toll-free telephone number search tool to search for available numbers that meet your search choice. Review the results. You may then click to order a selected phone number or revise your search and try again.