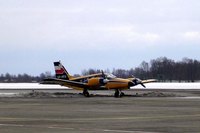 The history of an aircraft's maintenance and damage can significantly affect its valuation. But aircraft damage history can be difficult to determine unless accurate aircraft logbooks are available. Determining whether an aircraft has had damage requires a review of aircraft maintenance logbooks, Federal Aviation Administration records and National Transportation Safety Board accident records.
Things You'll Need
Aircraft logbooks
FAA records
Examine the aircraft logbooks, which are supposed to include all maintenance and repair work done on a particular aircraft over its life. These logbooks will contain notations of regular maintenance but also any major or minor repairs required if an aircraft has had damage. Logbooks are intended to be a record of the entire history of the aircraft from its production to the current date. For help analyzing the records, consult a qualified FAA maintenance professional.
Get the FAA records. Many major changes in aircraft structure or repair will be recorded in documentation that must be submitted to the FAA. In the absence of appropriate aircraft logbook records, these submissions can be requested for review. The records will include major aircraft changes, any modifications to the aircraft that required a supplemental type of certificate approval, and submissions relating to major repairs if the aircraft has been damaged in an accident or incident. FAA records will not be a full record of the aircraft's history but can help put the pieces of the puzzle together.
Search the NTSB accident database for a history of accidents for the particular aircraft. This database will include only accidents or incidents that have been reported, but it may include records that were not included in FAA maintenance records or the aircraft maintenance logbooks. This serves as a good secondary verification in the event that an accident or incident was not included in officially submitted FAA documentation or in the aircraft logbooks.
Consider using outside services. Fee-based services will search all these records and can help someone researching an aircraft's history be more effective based on their experience and familiarity with the documents and industry practices.