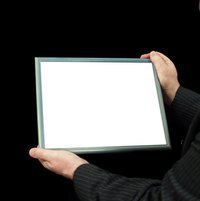 The best way to get information into the hands of individuals is to distribute flyers. Like mini billboards, a flyer is large enough to contain lots of information plus a few pictures. Design your flyer to attract readers. Use dressy fonts sparingly, opting for easy-to-read fonts instead. To take shortcuts, use a word processor with flyer templates. Just fill in the blanks and print. For something completely different, make your own flyer from a blank page. Before you begin creating your flyer, take a few minutes to jot down the information on a notebook. Include the name of your event and purpose if possible. Include dates, times and prices if applicable.
Things You'll Need
Letter-size paper
Computer
Load the paper into the printer. Open your word processor on your computer.
Save your file with a name associated with the project. This will allow you to work on the flyer at your leisure without starting over each time.
Create a headline in block letters at the upper portion of the page. This should be about a third of the way down from the top. The headline should be your event name.
Divide the next third of the page into two columns by dividing it with a vertical line. Drag the vertical line from your image or graphic file in the word processor.
Drop a text box in the left column. In the left column list times and dates. Drop a product picture or text box in the right column. If using a text box, then give more information like special deals or product descriptions.
Create a small headline to fit at the bottom third of the page. This headline should give additional information like deadlines or special offers.
Print the flyers with your printer. Alternatively, you can print one flyer and have it professionally printed.