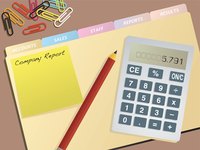 Depreciation is the amount an asset decreases in value over the course of the asset's life. Under the matching principal, depreciation matches the use of an asset with the expense occurred from the asset's use with the firm. When a firm decides to change its depreciation on an asset, the Financial Accounting Standards Board considers this a change in accounting estimate. Changes in accounting estimates are treated prospectively and do not affect any previous financial statements.
Calculate the book value of the asset at the time of the change in depreciation. For example, a firm buys an asset for $50,000 with no residual value, a five-year useful life and the firm uses straight-line depreciation. After three years, the firm decides the asset has a $4,000 residual value. The book value after three years is the cost, $50,000, minus total accumulated depreciation, $30,000, which equals a $20,000 book value.
Recalculate the new depreciation with the revised depreciation figures. In the example, $20,000 minus $4,000 divided by 2 years, which equals a new depreciation of $8,000 per year.
Debit Depreciation Expense and credit Accumulated Depreciation for the amount of the new depreciation for the year. In the example, debit Depreciation Expense $8,000 and Accumulated Depreciation $8,000 to record depreciation for Year 4.