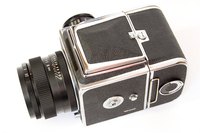 Creating a photographic business plan is an interesting and unique endeavor, but can prove frustrating for artists. Many photographers are artists to their core and have a difficult time adjusting to the business aspect when taking the leap into establishing a photography business. A traditional business plan may prove constraining to the photographic artist and approaching the business plan with a more informal, unstructured strategy may prove more useful for many photographers. Using brainstorming methods, large white sketch pads with colored markers and some creative visualization, you can create a more organic business map that suits your needs and will grow with your business.
Things You'll Need
A large sketch tablet, 20x24 inches or larger
Colored markers
Create a brainstorming folder for your photography business. Brainstorm on the specifics of your specialty, the overall vision of how your studio will look in 5,10 and 20 years and make a list of the essential elements needed to launch your business. For example, a portrait photographer specializing in newborn baby images needs a small studio workspace, a mobile location lighting setup, basic lighting, photographic and posing props in addition to target marketing campaigns. Visit multiple web sites of existing businesses in your specialty and take diligent notes on their style, their studio settings and their pricing structures. Brainstorm on ways to personalize and incorporate the positive attributes into your plan. Keep the notes and research for your blueprint in a folder labeled blueprint and add to this file periodically when ideas and brainstorm sessions arise. Spend time making notes regarding your potential customers, their main demographics, where they shop and the type of products they purchase.
Organize your brainstorming notes into categories to create your business map. According to Maxine Hyndman's book, "The Organic Entrepreneur", "a map is not as fixed as a plan is intended to be. A map shows many different roads leading to your destination." (see reference 1) Such flexibility is essential for many artists trying to make a living from their photography. The map can include the following categories; executive summary, studio management, marketing and sales strategy, photographic equipment purchase plan, products or services and the SWOT (Strengths, Weaknesses, Opportunities and Threats) analysis.
Take each category from above and write the title on a giant piece of white paper (use a 20x24 inch tablet or something similar). Take the notes from the first step and list the highlighted points in marker underneath each title. Create mind-maps or brainstorming maps if necessary using the large white spaces on these tablets next to ideas relevant for each category. For example, if you're a newborn portrait photographer, under the title "products and services" begin listing all the possible print options, photo books and types of portrait sessions you can offer. Circle your highest profit margin products, such as 8x12 inch prints, and order the products and services using numbers in the highest priority products with the highest profit margins being ranked first. These products will become a main point of emphasis as you develop your more formal plan and begin your marketing phase.
Organize the map paperwork into a more formal document, sectioned with complementary categories to the business map. Create a living, organic business plan by continually updating and changing the various sections of your business map. For example, if you choose to offer senior portraits in addition to your newborn sessions, add a new page in the large business map sketch book and brainstorm all the logistics on page. Add the additional section to your the formal documents of your business plan.
Keep your plan in a visible location and revisit the document periodically to see that your business is meeting its goals and you are on the path you visualized. If you are seeking outside investors to build a larger business, this organic plan will be the foundation for your more formal business plan. When seeking outside investors, seek the advice of a professional business coach or business developer and do diligent research to strengthen your business plan. During this phase, hiring an outside business plan and strategy professional is also an excellent idea. Many photographers do not seek outside investors as the possibility to grow your business from scratch exists, as long as you have a photographic vision, passion, basic camera equipment and understanding friends to photograph for your first portfolio.