Pregnant women should consume three to four servings of fruit daily, says the National Institutes of Health, with each serving being equivalent to a medium-size piece of whole fruit, 1/2 cup of 100 percent fruit juice, 1/4 cup of dried fruit or 1/2 cup of unsweetened fresh, frozen or canned fruit. All fruit contains essential nutrients, but some are more crucial for a healthy pregnancy than others. You should eat fruit even if you have gestational diabetes, but limit yourself to three daily servings spaced throughout the day. Talk to your obstetrician if you have concerns about your fruit consumption.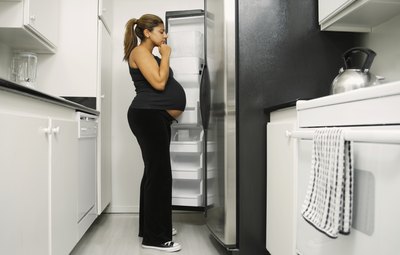 Ensure Healthy Brain Development With Folate
A baby's brain and spinal cord develop primarily between the fifth and eighth weeks of your first trimester. During this time -- and throughout the rest of your pregnancy -- it's crucial that your diet include plenty of folate, as women who don't get enough have a higher risk of having children with neurological malformations.
Pregnant women need approximately 600 micrograms of folate per day. To help you reach your requirement, choose high-folate fruits such as blackberries, boysenberries, mangoes, oranges or papayas. One cup of frozen unsweetened boysenberries contains 83 micrograms, or almost 14 percent of your requirement, while fresh mangoes and oranges supply around 70 micrograms per cup.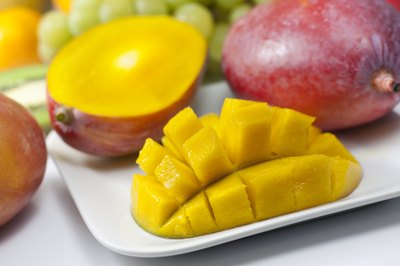 Keep Blood Pressure Down With Potassium
Approximately 6 percent to 8 percent of women in the United States develop high blood pressure, or gestational hypertension, during pregnancy. In some instances, the increased blood pressure causes preeclampsia, which typically develops after 20 weeks and can cause serious medical problems for both the mother and the baby. There's no proven way to prevent preeclampsia, but a study published in the Journal of Reproductive Medicine in 2005 found that a diet rich in potassium and fiber could help, in addition to keeping blood pressure low, though more research is needed.
Including fruits like raisins, bananas, tomatoes, oranges, orange juice, prunes and prune juice in your daily meals will keep your potassium intake high. For example, eating 1/2 cup of raisins supplies you with 598 milligrams of potassium, 13 percent of your 4,700-milligram requirement during pregnancy.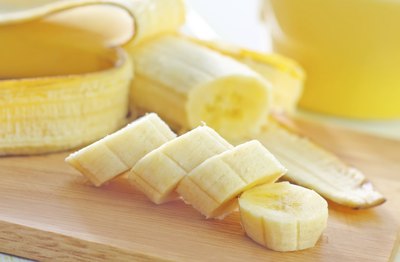 Increase Your Iron Intake With Vitamin C
It's common for women to experience increasing fatigue during pregnancy, and this symptom will be exacerbated if you lack iron. There are two types of dietary iron: heme iron, found in animal foods like meat, and nonheme iron, which is in plant-based foods such as beans, leafy green vegetables and enriched breads or cereals. Your body isn't good at absorbing nonheme iron, but you can increase the amount you take in by eating iron-rich plant foods with fruit that's high in vitamin C.
A medium-sized orange contains 70 milligrams of vitamin C, over 80 percent of a pregnant woman's recommended daily intake. Dragon fruit, a native Central American fruit that resembles kiwi in texture and flavor, contains enough vitamin C to supply 15 percent of the daily value of 60 milligrams. Other good fruit sources of vitamin C are strawberries, grapefruit and cantaloupe.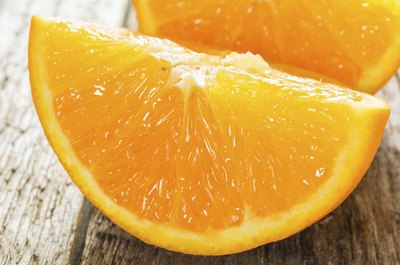 Make Sure Things Run Smoothly With Fiber
Up to 50 percent of pregnant women have trouble with constipation, particularly as the baby grows larger at the end of the third trimester. One of the best ways to prevent or treat constipation is to consume fiber-rich produce each day. You'll need around 25 to 28 grams of fiber daily, depending on your age.
A 1-cup serving of fresh raspberries contains 3.3 grams of fiber, fulfilling more than 10 percent of a woman's fiber requirement. Other good choices include apples -- one small apple with its skin has almost 3 grams of fiber -- pears, with 3 grams per half, and apricots, with four whole pieces providing 3.5 grams.