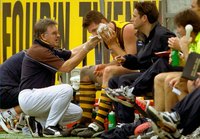 How to Reduce a Dislocated Jaw. The jaw may slip out of its socket during sleep if the muscles become relaxed due to alcohol or sleeping pills. In remote settings, it may be necessary to put the jaw back in line ("reduce" it) so that the injured person can eat.
Things You'll Need
Preparation
Calm the injured person down.
Determine quickly whether or not reducing the dislocation (putting the bones back in line) is necessary (see "How to Decide Whether or Not to Reduce a Dislocation").
If reduction of the dislocation is necessary, calmly walk the injured person through each step, securing the person's agreement and cooperation.
Reduction
Put on latex gloves to prevent the transmission of infectious diseases.
Wrap both of your thumbs with gauze or some other form of padding and tape the padding in place. This will prevent the injured person from biting your thumbs when the jaw pops back into place.
Insert both thumbs into the injured person's mouth.
Press on the lower back molars using a great deal of force and a downward motion. Force is necessary to overcome muscle spasms.
Monitor pain in the joint (just in front of the ear) after the jaw has popped back in place. If pain persists, the jaw might be fractured, and you will need to consult a physician.