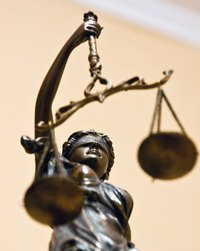 After filing a petition for bankruptcy it is easy to assume that the hardest part is over. While this is true for many petitioners, some individuals may be forced to deal with the possible dismissal of the bankruptcy case. If you receive a notice of dismissal from the bankruptcy court stay calm, it is possible to appeal the decision of the court. Appealing the dismissal of a bankruptcy case is not always easy, but with a little patience and a lot of paperwork it can be done.
Things You'll Need
Bankruptcy attorney
Copy of original petition
Supporting financial documents
Contact a bankruptcy attorney with experience dealing with dismissed bankruptcy cases. The bankruptcy court works hard to keep the percentage of dismissed cases low. If a case is dismissed it is best to have a professional deal with the appeal process, especially if the bankruptcy was filed without the help of an attorney. When contacting an attorney be prepared to provide them with the notice of dismissal, copies of the original petition, retainer fees, and a $255.00 appeal filing fee. Since the notice of dismissal must be answered in 10 days you must be willing to provide all requested documents and fees quickly.
File a notice of appeal with the bankruptcy court within 10 days of receiving the notice of dismissal. The notice of appeal should include the bankruptcy case number, your contact information, your attorneys contact information, and the contact information of all creditors listed in the bankruptcy petition. Once this notice is filed the court will mail copies of the notice to all creditors involved in the bankruptcy proceeding.
10 days from the date of filing a notice of appeal a designation of the record and statement of issues must be filed with the bankruptcy court. This statement will list everything that the petitioner wants the court to consider about his or hers case. The attorney must include copies of the statement to be mailed to all creditors to the clerk of court at the time of the filing. Once the creditors are served with copies of the documents they have 14 days to respond to the court.
File a brief that is no more than 50 pages with the clerk of court. The brief must be filed no more than 14 days after the appeal has been docketed and a court date has been scheduled. The brief is a statement explaining why the appeal should be granted. In the brief your attorney may address any honest errors in the original filing that led to the dismissal or any recent events that my influence the decision of the court and the trustee. Once the brief has been filed it will be served to all creditors and they will have 14 days to respond.