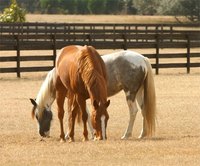 Whether you own a top show horse or just an old trail mount, it is important to keep your tack in the best possible condition. Every time you ride you are relying on your tack to keep you safe, so that tack should be inspected and cleaned after every use. The reins in particular should be soft, supple and easy to hold. Having quality reins can improve your feel and help you get the most out of your horse. Unfortunately leather reins can stiffen over time, as they absorb sweat and moisture from each ride.
Things You'll Need
Remove the reins from the bridle before you begin. Lay the reins out on a clean and stable surface.
Dampen a soft cloth and dip it in the tub of saddle soap. Work up a good lather with the cloth and go over the entire surface of the reins from top to bottom. Fold the saddle soap soaked cloth over the rein and slowly pull that rein through the cloth. This will ensure that the saddle soap coats the reins on both sides.
Allow the saddle soap to soak into the surface of the leather reins for five to 10 minutes, then use another soft cloth to wipe away any residue. Buff the reins with the cloth several times.
Soak a cloth in neatsfoot oil, but only if you are working with dark colored reins. Neatsfoot oil will darken the leather, but it is also an excellent tool for softening both new and old leather reins. Soak the cloth thoroughly, then pull the reins through the cloth slowly until the entire surface is coated. Allow the oil to soak into the leather and use a soft cloth to wipe away an excess. Let the neatsfoot oil soak into the leather for at least 15 to 20 minutes before moving on to the next step.
Dip a damp cloth into a can of mink oil and coat the reins with it. As with neatsfoot oil, mink oil should only be used on dark reins since it can darken the leather. You can test the effects of the mink oil by applying a generous amount to a piece of scrap leather the same color as your reins. Apply the mink oil to the reins and let it sit for five to 10 minutes before wiping away the excess. The mink oil will increase the water resistance of the reins and help to avoid the stiffness that can result when the leather gets wet.