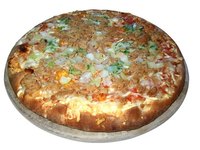 Of all the details you have to decide when opening a new pizza shop, you might think that the menu is one of the smaller problems that you have to deal with. Nothing could be further from the truth. Your menu is a representation of your business and is often the only thing that a customer will see if you are offering delivery service. Capture the feeling of your restaurant and place it into your menu. Your new customers may notice a difference from your competition and become regulars.
Create the general look of your menu. Color gives customers signals about the type of food on a menu. Many Italian eateries go with a classic red and green motif because they are colors in the Italian flag. If your shop has a different color scheme, color your menu to go along with it.
Find a font that goes with the emotional feel of your pizza shop. If you have a formal, sit-down establishment, go with a formal and straightforward font. If yours is a more casual place with carryout and delivery, consider a more casual and fun font. No matter the style, make sure that the font is very easy to read.
Investigate your competition. Aim to be different to set yourself apart from every other pizza place in town. Decide what you have to offer that no one else has and highlight those features. If everyone else is using prepackaged foods and you're cutting vegetables and grating cheese by hand, let the customers know about this quality issue.
Arrange the menu according to sections. Begin with appetizers, move on to the main selections and finish with desserts and beverages. Highlight any specialty pizzas that you carry. Pizza is often seen as a bargain meal for families, so let your customers know about any special value items that you serve, like two-for-one deals or combination meals.
Use appetizing, descriptive words when talking about specialties. Give each specialty pizza an attractive name, then describe the ingredients in a manner that creates interest. "A Vegetarian's Nightmare" is much more memorable than something called a "5-Meat Pizza." Make them taste the pizza simply by reading the words on your page.
Add carryout and delivery information at the bottom of the menu, including your address and phone number. Include any special information such as minimum order size or delivery fees.
Make your stock menu fit only the top 3/4 of the menu sheet if you're going to be using it as an advertising flier. This will leave room to add different coupon offers at the bottom and allow you to change the coupons on a regular basis without creating a new layout each time.