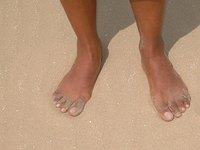 Antifungal powder is used to treat fungus infections on the skin or body and is used for conditions such as athlete's foot. Antifungal powders can be found at most drugstores and grocery stores and are also available by prescription. Antifungal powders can be made at home from basic ingredients and may be as safe and effective as over-the-counter versions. Always contact a doctor with any questions.
Things You'll Need
Cornstarch
Baking soda
Rice flour
Borax powder
Container with lid
Fork
Scented herb
Plastic bag
Combine one cup of cornstarch with six tbsp. of baking soda in a medium-sized container with a lid. Baking soda and cornstarch both have antifungal properties and absorb moisture well, which aids in healing fungus infections.
Add eight tbsp. of rice flour to the mixture. Rice flour can be found at many grocery stores, specialty gourmet stores or Asian food markets. This will give the mixture a fine-grain texture. One tbsp. of borax powder can be substituted for rice flour.
Mix well with a fork or small whisk. Cover the container with a lid.
Try scenting the antifungal powder by placing in a sealable plastic bag with a few sprigs of a scented herb, such as lavender. Leave for two or three days and then remove the herb and place the powder in a container with a lid.
Prevent the powder from clumping in humid conditions by adding one-fourth tsp. of rice to the mixture and combining well.