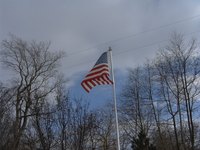 Want to fly Old Glory or pay tribute to a serviceman. Follow these simple steps to putting a Flagpole in your yard.
Things You'll Need
Shovel
Cardboard Tube
Quikrete/Sakrete
First thing you need to do is decide where you want your Flagpole to be. Then dig a hole 18" in diameter and 16" deep. Once your hole is dug, take your cardboard tube( sold anywhere Quikrete or Sakrete is sold) for any Flagpole 16 feet or higher 18" x 16" is recommended. Place this tube in hole and fill in around the outside of tube with dirt. This will hold Tube steady while cement is being added.
Mix Quikrete or Sakrete to the recommendations on the bag, for this size hole you will need three 80 lb bags.

Place Pvc pipe that is slightly larger than the diameter of your flagpole and 3" longer than the depth of the hole, in the center of your tube. Then fill in around this pipe with your concrete. Fill the tube completely to the top and smooth with trowel or back of shovel.
Making sure pipe is level, let this set up overnight or to the recommendations on the concrete bag. Once cement is set you can simply drop your Flagpole into the Pvc pipe and raise your flag or flags.