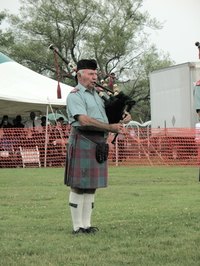 Your-kilt.com relates an apocryphal story about Queen Victoria inspecting a regiment of Scottish soldiers at Balmoral Castle. She noticed a soldier struggling to keep his kilt from blowing up and gave him a brooch to hold his kilt closed. This story is often told to explain the origins of the kilt pin, which is an essential part of wearing a traditional short kilt.
Things You'll Need
Put on the kilt. There will be an open flap along the right-hand side, and this is where you will place your kilt pin.
Locate a spot 3 to 4 inches up from the bottom of the kilt and 3 to 4 inches from the right edge.
Fasten the pin through the top layer of the apron. A kilt pin is decorative and it is intended to give the apron a little bit of weight to keep it from flapping open. Kilt pins are traditionally shaped like safety pins, but there are also more decorative pins that function like lapel pins.