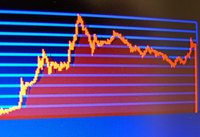 Many people prefer to have paper stock certificates sent to them when they invest in a company. When you hold the physical certificates you are registered with the company as a stockholder and receive company reports and updates. In addition, it is generally easier to use the stock as collateral if you have the certificates in hand. When the time comes to sell the stock, the easiest way is to use an online broker. You will have to make a trip to the post office to mail the certificates.
Things You'll Need
Open an account with a discount online broker if you don't already have one. You can use a full-service broker or the company's transfer agent if they offer online services. However, you will probably pay higher brokerage commissions or transaction fees than discount brokers charge.
Fill out the transfer of ownership form on the back of each stock certificate. Call the customer service number for your broker to make sure you enter their name and other information as required. If you don't already have the broker's mailing address, this is a good time to ask for that as well.
Send the stock certificates to the broker by certified mail with the U.S. Postal Service. Because stock certificates may be of considerable value, they should be insured when you mail them.
Wait a few days to allow time for delivery and processing of your stock certificates. You'll see them credited to your account online. All you have to do then is place a sell order with the broker.
Keep complete records of the transaction. At tax time you'll need them to report any capital gains or losses.