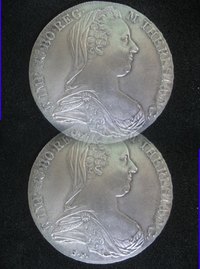 You can't invest directly in precious metals in the government's Thrift Savings Plan. If you have decided to convert your assets into precious metals, you must convert your TSP to precious metals. First, learn if you're eligible, then close our your government plan for some shopping in the metal market.
Determine if you are eligible to roll over your TSP into an IRA account. You may not withdraw funds from the TSP before age 55 without incurring a 10 percent early withdrawal penalty, in addition to paying income tax on the total amount you withdraw. So, if you cashed out a TSP worth $100,000 before age 55, you would pay $10,000 on top of your income tax, which will vary depending on your tax bracket.
Converting the TSP into a traditional IRA gets around this problem. You are usually only eligible to "roll-over" your TSP when you leave your job. So, if you are not about to retire or quit your government job, this is not an option for you.
Close out your TSP. Whether you are eligible for the TSP roll-over or not, if you want to own precious metals, you can't be in the TSP.
If you cash out your TSP, you will probably pay something in the range of 25 percent to 40 percent in taxes and penalties. This is the equivalent of experiencing your own personal stock market crash.
If you do an IRA roll-over, you will want to find a brokerage firm that offers retirement accounts that allow you to hold precious metals. An Internet search will turn up dozens of such companies, and they will be able to walk you through the roll-over process.
Buy precious metals. If you just cashed out your money, you can go straight to the local precious metals dealer and buy silver and gold coins. Another option would be to find one of the brokerages discussed above that can set you up with a tax-advantaged retirement account that will hold precious metals for you.