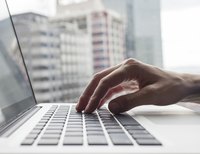 Maryland offers three ways of obtaining your driving record. Records can be requested online, you can travel to one of the state's Motor Vehicle Administration offices, or fill out a form and request them by mail. In each case, you'll have to prove your identification before a copy of the records is released.
Individual Records
Individuals wishing to obtain a copy of their record must fill our form DR-057, "Request for Motor Vehicle Administration Records," available at http://www.mva.maryland.gov/_resources/docs/DR-057.pdf. Requests can be made for the record of an individual driver, or for a particular vehicle. In each case, identification is required – driver's license and date of birth for an individual, or the tag number and vehicle identification number for the vehicle. You can obtain your three-year record, complete driving record, or PBJ records. The latter includes any incidents where you plead guilty to a crime and accepted probation before judgment, as might happen following a DUI arrest.
Getting the Copies
To request a copy of the records online, go to http://www.mva.maryland.gov/drivers/driving-record-information/ and enter the information requested. Records also can be found at your local MVA branch office. To find the one nearest you, check the link provided in the Resources below. Request the records by mail by sending the completed DR-057 form to 6601 Ritchie Highway, N.E.; Glen Burnie, Maryland 21062. If paying online, acceptable payment forms include American Express, MasterCard, Visa or an electronic check. If paying in person, you can also use cash, a paper check or a money order.
Business Requests
Businesses that want to obtain copies of driving or vehicle records have several options. A business representative can fill out the DR-057 form and mail it to the MVA office at 6601 Ritchie Highway; Glen Burnie, MD 21062. Add "Attn. Room. 145" if requesting driving records or "Room 202" to request vehicle records. If making the request for five or more records, fill out form DL-015 instead. Accessing records online requires subscribing to an MVA service that offers the information in this format. Businesses can only get three-year and complete driving records – the PBJ record may be accessed only by the individual, her attorney, or government officials.