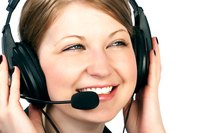 Creating a consulting business in customer service training from the ground up requires industry tools. Years of verifiable experience in satisfying clientele with retention or acquisition of new clients are helpful resume assets to advertise to add legitimacy to a new business. There will be hours of cold calling managers and seeking referrals from businesses that need help training their workers to do a better job with a strategy that is teachable. Being a good communicator and having insightful materials to support the presentation are fundamental must-haves regarding a worthwhile consultant in customer service.
Things You'll Need
Training materials
Office supplies
Planner
Contract agreements
Basic bookkeeping software
Transportation
Set up your company and build the plan. Select the name and purchase a domain for a Web site. Start with a basic site to allow credentials to be placed on display and include a picture of yourself as the owner for a touch of personalization. Be sure that the location is already selected before moving forward. Check with your state to make sure the name you selected is not already owned by another. For example, Sunbiz.org is where businesses file to incorporate and it is easy to see active and non-active names in Florida. Every state will have something similar. Follow the procedures for incorporating, and obtaining licenses in your state. If you plan to operate as a corporation, you will need to file with IRS before doing business. After this, it is time to start the business plan because there are not any roadblocks to legally start the operation. Use the Small Business Administration (SBA) Web site link in the reference section for more on how to complete the plan.
Determine the marketplace for customer service assistance skill building within the business community. Who will be the target market? Small businesses, medium size, or large corporations? The marketing strategy will be greatly influenced by this factor. Being part of Linked In may not be enough to gain the exposure necessary to make a customer service training consulting business. Consider SEO (search engine optimization) and press releases to gain respect in a highly competitive environment.
Obtain or create the materials to be used for the training. Look at the competition first. This will save a start-up time in planning and deciding on what systems work. It may be used to improve the current industry standards that will enable your new company to shine. Strategic closing skills with a mix of psychology creates a powerful package for a customer service trainer to teach. Finding the right package to train from may be the largest hurdle once starting. It may evolve over time as well. Managers that want to improve their customer base will find this type of company to be very valuable, if the skills can be transferred successfully. Be nimble and interview each client before accepting a job offer. Refer to the reference section for a sample company in the customer service training.
Network with business professionals and managers to offer a free consultation for a limited time. For instance, ask to observe the workplace with a tour and determine how the employees can enhance their skills with handling customer complaints. Do not use all materials and skills up front. After vacating the premises, provide a few suggestions in a report format and give a certain window of time for them to provide feedback about hiring for the contract position as a customer service training consultant. Document the experience, and obtain a testimonial when appropriate. Get ready to do this step again, until buzz about the business grows.