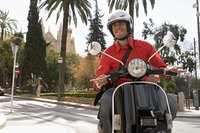 Scooters and mopeds are a ideal transportation for people looking to save money on the cost of gasoline. These vehicles usually get more miles per gallon than do most cars. And if you live close enough to work, you can commute every day to your job without spending a small fortune on gas. Unfortunately, the best scooters and mopeds can be pricey. The good news is that you can take out a loan to finance these vehicles, and doing so is a relatively straightforward process.
Make copies of the paperwork you'll use to convince banks or credit unions you can afford to take on a loan for a moped or scooter. This paperwork includes your most recent federal income tax return, savings and checking account statements, credit card bills, other loan statements and two most recent paychecks.
Shop around at local and national banks and credit unions. Rates and origination fees may vary widely from bank to bank, so make sure to shop until you find a lending institution that offers a rate and fees with which you are comfortable. The dealer from which you bought your scooter or moped may also offer financing. Be careful, though; these financing options often come with higher interest rates and fees.
Tell a loan officer at the credit union or bank you decide upon that you're interested in financing a motor scooter or moped. The loan officer will ask you basic questions about yourself and the vehicle you are buying, including its price and your estimated gross monthly income.
Send your loan officer by fax, mail or email the copies you made of your important financial papers. The loan officer will review these documents to determine if your gross monthly income is high enough and your monthly debt obligations low enough to afford a loan for your scooter or moped.
If the loan officer alerts you that your income and expenses are within the parameters for the institution to issue the loan, go ahead and complete the application form. You may need to pick up a paper form from the lender, or you might be able to download it from the lender's website or even complete it online. Complete and submit the application together with any required materials or other documentation.
Loan applications frequently must be reviewed and approved by other officials before the loan is actually issued, a process that could take a few days. That review process generally includes a review of your credit score and credit history. If you have bad credit or a spotty history of meeting your obligations, you may still be denied the loan. Otherwise, when the loan is approved, you will generally need to visit the lender to sign some closing documents before you can pick up your funds or have them transmitted to the scooter dealer.