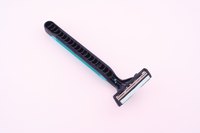 A combination of factors dulls razor blades, including improper cleaning and exposure to moisture, which oxidizes the metal. Dull razors are more likely to nick and cut skin, since the razor surface is not smooth. By incorporating razor blade preserving techniques into your shaving routine, you can use fewer razor blades throughout the year and save money.
Things You'll Need
Razor
Water
Shaving cream
Towel
Hair dryer
Alcohol
Plastic bag
Lather with water and shaving cream when shaving so that there is less drag between the hair and the razor blades. Less resistance when shaving helps to preserve razor blades.
Rinse the razor frequently when shaving to remove hairs and shaving cream that become clogged in the blades. Rinse both the front and rear of the cartridge to remove residue.
Dry the razor well when shaving is complete. Shake the razor to remove water droplets or blot the razor on a clean towel.
Use a hair dryer to blow a quick burst of hot air onto the razor to remove any remaining moisture.
Dip the razor blades into alcohol quickly to evaporate any water within the blades. Moisture in the razor leads to corrosion, which makes the blade dull.
Store the razor in an area free from moisture. Dried razors can be kept in the bathroom in a plastic bag to protect them from moisture in the atmosphere.