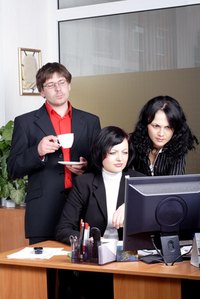 Being a part of a successful team can be a rewarding and engaging experience. Unfortunately, it can be a frustrating and trying one as well. One of the critical keys to team success is effective communication. Knowing how to enhance communication within a working team can result in higher productivity, lower occurrence of conflict, and higher levels of cohesion and cooperation. By implementing targeted communication strategies, you can build a team capable of higher and more beneficial output.
How to Improve Communication in Teamwork
Open each team meeting with each team member giving a two- to three-minute activity or progress report. These reports should be brief summaries of the progress the member has made toward the completion of assigned action steps from the previous meeting. These reports should not include any mention of any other team member unless the assigned task was a collaborative one. In this step you offer an opportunity for each member to have a voice regarding individual effort without competing with any other team member.
Allow a brief period (about three to five minutes) of commentary following the activity reports. All comments should be additive, supportive, and positive. Negative commentary or criticisms should be sincerely discouraged.
Have each member recite the action steps assigned by the group at the closing of the meeting. This tactic offers an opportunity for each team member to confirm her understanding of the purpose and scope of the meeting and what the group requires of each member to accomplish moving forward.
Address conflict directly and openly during the body of the meeting. Keep interactions transparent by recording the address and resolution of conflict in the meeting minutes. When individual members understand that their commentary will be recorded for posterity, there is often a greater tendency toward civility and understanding.
Reiterate main points of the meeting to ensure members have a clear and consistent understanding of the major actions and communications that occur during the meeting. It is often useful to write these points (once agreed upon) on a white board or flip chart so that members can reflect and refer to them throughout the meeting. Complete and distribute the meeting minutes within 24 hours of the meeting close. Email or distribute copies of the minutes to all team members.
Establish an interactive channel of communication by setting up a team bulletin board, Internet message board, team email account, newsgroup or blog. This tactic ensures that team members can communicate easily and effectively between meetings.