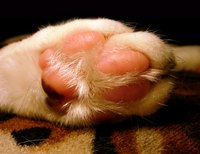 If you have found some animal prints around your house or on your property, you may be wondering which species of animal put them there. While some prints may require an expert to identify, others are relatively easy to distinguish. House cats, and even feral cats, are likely suspects for making the prints, especially if the tracks were made at night when cats are most active. House cat animal tracks are easily identifiable by examining their distinct size, shape and presence or lack of claw marks in their print.
Look for claw marks in the animal print. If claw marks are visible, the animal print likely does not belong to a cat. Cats keep their claws sharp and, therefore, do not use them for general movement. Their claws are usually retracted while walking and running but will sometimes be visible when a cat is pouncing.
Count the number of toes on the front and back prints. Cats have five toes on the front feet but only show four in their print; there are four on the back.
Measure the animal prints. Most domestic cats make prints that are about 2 inches long. The width of the house cat print should be slightly greater than the length.
Examine the main pad of the paw print. Cats have a more rounded pad while dog pads are more triangular in shape. The rear edge of a cat pad will have three rounded lobes.
Check for visible fur marks in the print. Cats have fur between their pads which often shows up in prints. The fur markings look similar to brush strokes, and you will see them between the pad prints, especially between the main pad and the toe pads.
Look for other evidence such as scratchings on trees, fences and other wooden objects. Cats often sharpen their claws or mark their territory on wooden structures.