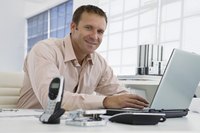 Building a simple invention must begin with a prototype, or sample, of your invention idea. Creating the prototype yourself is the best way to protect your idea from theft. It is also the best way to turn your idea quickly into tangible physical reality, something that you can show to a manufacturer for final reproduction. Creating a simple invention doesn't need to be costly if you are thrifty and creative. It can begin from just a simple prototype made at home out of common, everyday materials.
Things You'll Need
Paper
Pencil
Foam
Cardboard
Glue
Oven-baked sculpting clay
Computer-aided design software
Sketch a rough drawing of your invention and label the parts. Make notes about how the device will work next to your drawing.
Decide whether you want to make a working or nonworking prototype.
Use paper, foam, cardboard, glue or oven-baked sculpting clay to model your working or nonworking prototype. You can use other materials such as metal if you have access to welding equipment or if you don't mind contracting out part of the work.
Use Rapid Prototyping CAD (Computer-Aided Design) software to draw your invention on a computer if making a physical model is not feasible financially or if it cannot be conveyed as well with a nonworking physical model.
Look on the Internet to find a manufacturer to help you create the final version of your invention. The Thomas Register has a list of manufacturers by specialty and state and is a good place to start (see Resources).
Present your prototype or CAD drawing to the manufacturer.
Ask the manufacturer how much it would charge to create one of your prototype and ask how many you need to order to get a price break.
Order only one prototype and examine the finished piece carefully before placing a larger order.