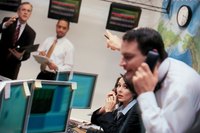 For many people, stock trading is more than a way to invest for the future. It is a profession. As such, stock trading may operate as a genuine business independent of personal finance activity. Thus some activity is eligible for tax deduction. Unlike personal investors, those who trade for a living report their trading-related deductions on a Schedule C like any sole proprietor. This is highly advantageous if it is clear that you are indeed in a stock trading business. To receive these tax deductions, you must show a good faith effort that you are a full-time stock trader.
Create the Entity
Incorporate yourself as an official stock trading entity. In most states, this can be accomplished online through your state's Secretary of State website (see Resources). The process is quick and costs less than a hundred dollars in most areas. Creating an LLC is the easiest and least expensive option for most states.
Open a brokerage account in the name of your LLC. This is a critical distinction when claiming business tax deductions for stock trading. The IRS is more likely to accept your trading as a full-time operation if all the stock trades are transacted under an LLC account.
Transfer all funds to and from your brokerage account from a bank account registered by your LLC.
Pay for all services related to stock trading with your LLC's bank account. Never use the account for personal finances or living expenses.
Tax Deductions
Deduct your Internet service fees, as they are the lifeblood of most trading businesses. Without the Internet, you are not in business.
Deduct educational materials and books related to your trading strategies, as they are specific expenses incurred for the development of your business.
Report all income from capital gains on Schedule D, just as investors do.
Deduct the margin interest for your brokerage account on Schedule C with all of your other expenses.
Deduct home office expenses, including desks, computers, multiple computer monitors (if applicable) and other technology required for your work. These deductions only apply to full-time traders. Part-time investors do not qualify.