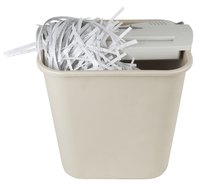 Use a paper shredder to quickly turn any document into tiny pieces of paper. Shredding is typically done to help prevent thieves and other unscrupulous characters from reading your personal information and can be a critical aspect of the home or business office. Not all shredders are designed alike. Compare your shredder options to help you choose the best shredder for your personal or corporate needs.
Compare the shredders' rate of shredding, typically indicated on the respective shredder's label as a speed of pages per minute (PPM). A higher number indicates a faster shredding speed, which may be important to you if you are using the shredder in a high-paced environment such as an office.
Review the shredders' capacity to shred large amounts of paper at once. Budget shredders can typically only shred one sheet at a time, while more expensive models may be able to shred three or more pages simultaneously. This may not be important to you unless you want to minimize the time spent on this task.
Check the size of the shredders. Some models are much bulkier than others, taking up a lot of floor space and being unwieldy to move, while others are compact and small enough to slide under a desk.
Look at how each shredder dices up the paper when it shreds. Strip-cut shredders slice the page into long strips, while cross-cut shredders make confetti-like pieces. The latter is better if you are handling sensitive documents and want to minimize the chances of someone reconstructing the page you've shredded.
Compare the shredders' extra capabilities. Some shredders deal strictly with paper, while others have powerful enough mechanisms to handle shredding staples, cardboard and plastic cards like credit cards. These extra features may be important to you if you want an appliance that can handle a multitude of tasks.