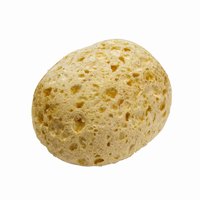 Hair that is heavy or in an undesirable location on the body is removable. Hair removal techniques such as waxing, shaving, electrolysis, tweezing and laser treatments are effective, but none of these techniques has any benefit for the skin. In fact, most irritate the skin. Removing hair with a buffer is an alternative to these techniques. It uses pumice stones, emery boards, sandpaper, or coarse mitts to rub hair gently away, removing dead skin cells in the process.
Things You'll Need
Mild abrasive agent (e.g., pumice stone or hair removal mitt)
Soap
Lotion
Take a bath or shower and wash the area you wish to buff with a mild, moisturizing soap. Dry off completely.
Take the buffing agent in your dominant hand and place it on the area of skin from which you want to remove hair.
Rub the buffing agent clockwise in a circular motion, making small circles and pressing gently. Reverse the direction of the circles and repeat this procedure until the hair is gone.
Rinse off your skin to remove any hair remnants, dry off, and apply a moisturizing lotion to the skin.
Rinse or wipe off the buffing agent to deter the growth of bacteria on the agent so the agent will be ready for the next use.