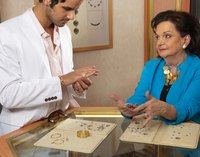 You'd like to be able to trust everyone, but unfortunately, some people will take advantage of you. When it comes to selling gold jewelry or other gold items, you definitely want to make sure you don't get cheated. The Better Business Bureau offers some helpful guidelines for finding a reputable gold dealer who will offer you a fair price for your gold.
Understand that the value of a particular gold piece can vary from day to day. Don't assume a dealer is not reputable if he offers you a different price than he did a few days ago or if another dealer offered you more money the week before.
Before taking your gold items to a dealer, find an independent appraiser who can tell you how much they are worth. Make sure the appraiser gives you a range to account for differences in the gold market. As long as a dealer comes within that range, you can assume he's reputable.
Don't try to sell your gold items when you need money fast. Selling your gold when you don't urgently need the money will allow you to take your time when finding a dealer. It's easy to get scammed when you're desperate for some fast cash.
Dealers who offer a price quote over the phone are most likely not reputable. A reputable dealer will always insist on seeing the item before making an offer.
Go to several different dealers on the same day and compare the amounts you were offered for your gold. If one of them is much lower than the others, you can assume that dealer is not reputable and is only trying to take advantage of you.
Avoid dealers who insist on holding your gold items without first paying you. They may claim that an appraiser will be in later to look at it. Also, avoid dealers that don't have storefronts. The best dealers will have a reputable business establishment and a history in your area.