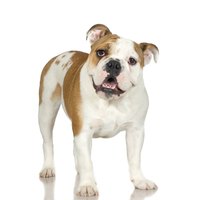 If you have a cute photo of your dog and you want all the world to see, then enter your pet into a photo calendar contest. You may see your dog's face in print one day. There are several photo calendar contests--both print and online. You will need a sharp, quality photo of your pet that shows charm and personality. Try several different contests, and do not give up if you do not win the first or second time. Competition can be fierce when cute dogs are involved.
Things You'll Need
Computer
Internet connection
Take a photo of your dog using a camera that will yield a high-quality image of at least 266 dpi. Get a photo that reflects your dog's personality, and is as cute as possible. This can be difficult considering how much dogs can move around. Avoid motion and get a sharp image by snapping a photo when your dog is at rest instead of playing.
Submit a digital version of your photo on a CD-ROM disc and a color printout of the photo. Each photo calendar contest has different rules, so pay attention to the details. Having a CD-ROM version and a color printout--the requirements for Page-A-Day's Photo Calendar Contest and the Bad Dog Photo Calendar Contest--will help you with the big requirements for photo calendar submissions. Other contests, such as the Sanctuary for Senior Dogs Photo Calendar Contest, allow you to submit a 4-inch by 6-inch or 5-inch by 7-inch photo.
Write the name of your dog, as well as your name, phone number and address on a self-adhesive label. Press the label on the back of the photo.
Place photos in an envelope with any required contest entry form and send to the appropriate address.