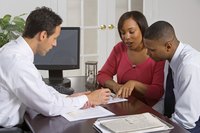 The DFA family of mutual funds is unusual in several ways. First, the funds are managed by financial academic experts, including two Nobel Prize winners. Second, the funds do not analyze individual stocks but use advanced asset allocation models to determine what stocks to own. Finally, shares of DFA mutual funds are not sold directly to individual investors. But there are a couple of ways to invest in what TheStreet.com calls "the best mutual fund family you never heard of."
Independent Financial Adviser
Ask a financial adviser. DFA mutual funds are sold only through independent financial advisers. If you do not already have an adviser who can sell you the funds, go to the next step.
Ask Dimensional, the investment firm that manages the DFA funds, for a financial adviser referral. The firm has an online request form for such referrals.
Set up an appointment with one of the financial advisers referred by Dimensional and arrange to buy the DFA mutual funds. The financial adviser can take care of all of the paperwork.
Section 529 Plan
Research the West Virginia College Prepaid Tuition and Savings Program. This program offers a Section 529 tax-advantaged college savings plan, called the Smart529Select, that provides investment options in DFA mutual funds. If you expect to someday pay college expenses for children, grandchildren or someone else, you can use this program to invest in DFA mutual funds.
Review the tax implications and restrictions of investing money in a 529 college savings plan. The money in a 529 plan is meant to be used for paying college expenses. The tax rules on 529 plans give a lot of latitude on use of the funds, but if the money is not used correctly, the income tax consequences could be severe.
Enroll online for the Smart529Select plan. The plan's website provides an online application that takes about 20 minutes to complete.
Determine what proportion of your 529 plan deposits should go into which DFA mutual funds. The rules for 529 plans allow changes in plan asset allocation only once a year. The Smart529Select website provides age-based portfolios that select the fund allocations based on the age of the future college student.