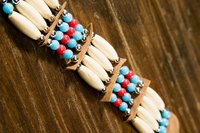 Native-American jewelry is beautiful and steeped in history and tradition. If you are interested in purchasing authentic Native-American jewelry, you need to be wary of the knock-offs and imitations that are so common. Whether you are purchasing jewelry online or in person, make sure that you are getting the real thing. Jewelry that is created by Native-American artists using high-quality materials can be an amazing acquisition, so do not get fooled by fakes!
Familiarize yourself with the jewelry that you are thinking about purchasing. Are you curious about Navajo jewelry, which has a strong emphasis in stamping metal, or are you more interested in Zuni jewelry, which places a great deal of importance on using lapidary? The more you know about the jewelry that you are purchasing, the less likely it is that you can be fooled.
Research Native-American artists online. Many Native-American artists have an online presence, and even those who do not will often be members of organizations like the Indian Arts and Crafts Association. Researching the artists and organizations can help you decide where you want to buy from.
Learn the difference between handmade and handcrafted. A handmade piece of jewelry is made from raw materials and put together by hand. Handcrafted materials, on the other hand, simply mean that the jewelry was created from prefabricated parts and put together by hand.
Look for the maker's mark. When you are dealing with a piece of jewelry that has been handmade by a Native-American artisan, there will likely be maker's stamp on the jewelry. If you only see a rating for the silver, or no mark at all, you should be cautious about your purchase.
Ask for a receipt or a certificate of authenticity. If the seller is not willing to give you one, this can be a red flag. Your documentation should include the name, full address, and phone number of the business, as well as the full name of the artist and their tribal affiliation. A specific description of the item should also be included as well as the value of the item itself.
Learn to distinguish real turquoise from fake stones. Real turquoise is heavier, denser, and more opaque than imitation stones. Price is usually a giveaway in this case. Real turquoise is quite expensive.
Go to places that are known to sell only authentic Native-American jewelry. Fairs, reputable trading posts, and museum shops are all good places to get good jewelry, but remember that you an also buy directly from the artists themselves.