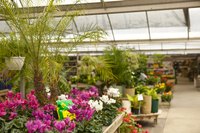 If you enjoy gardening, sell your plant cuttings to enjoy your hobby while you reel in an income. Depending on your goals, you can start your business from your home, working with vegetation grown in your backyard. Sell your cuttings to local nurseries, garden clubs, gardening enthusiasts and greenhouses.
Things You'll Need
Business license
Liability insurance
Greenhouse or cold frame
Heating system
Watering system
Rooted cuttings
Soil
Containers
Flats
Check with your local city council to ensure that starting a backyard garden doesn't violate any city ordinances. Meet any distance requirements for structures built in your garden. Obtain a business license, insurance and any additional permits, if necessary.
Determine which types of plant cuttings will be popular sellers. Visit local nurseries and greenhouses and peruse their inventories. Research local gardening avenues to find out about in-demand plants. Narrow down the list of plants that you would enjoy growing.
Learn as much as you can about caring and maintaining the plants you choose, including their ease of propagation, how much you can expect to spend procuring rooted cuttings, and how much return you can expect once they sell. Create a budget to ensure that your business can be profitable.
Purchase rooted cuttings of plants that you intend to sell, as well as soil, growing containers, pots, flats, labels and a heating and watering system. Implement a method for pest control.
Construct a greenhouse or cold frame in your home garden with enough lighting to accommodate your cuttings. This will extend the growing season. Ensure your vegetation can get the necessary sunlight. Adjust your insulation, depending on your zone or the season, as necessary.
Plant your rooted cuttings. Do not extract them for sale until they are viable cuttings with enough foliage on them to ensure their viability after transport.